Mediterranean Turkey Zucchini Boats
Simple stuffed zucchini boats with tangy feta cheese, bright greek dressing and of course ground turkey! A lean and green way to pack in tons of vegetables and protein into a quick weeknight dinner. Save any turkey filling that didn't make it into the boats for meals later in the week!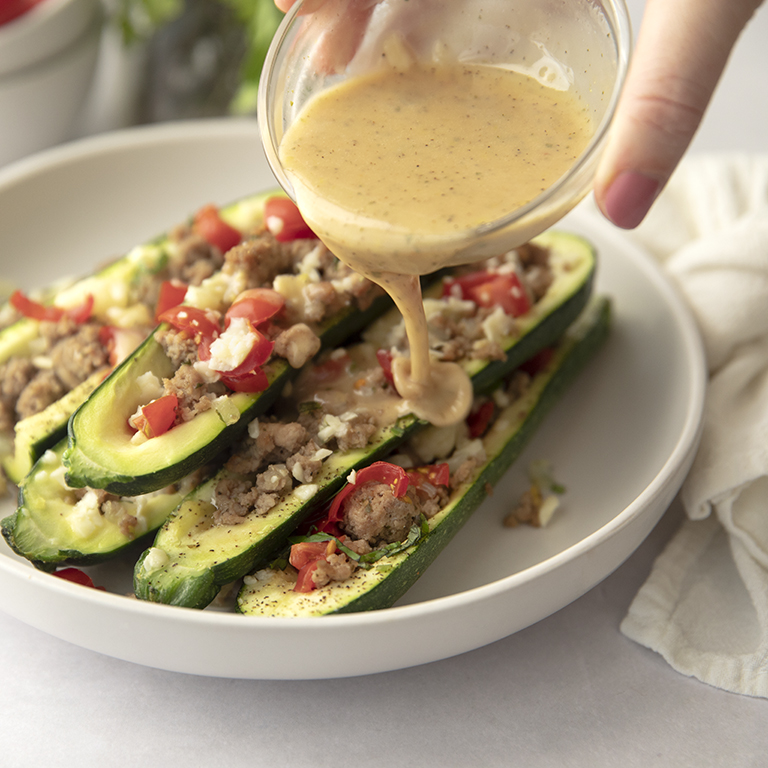 8

Servings

15 mins

Prep Time

45 mins

Total Time
Ingredients
1 tbsp. olive oil
1 grated onion
3 cloves minced garlic
3 tsp. salt
1 tbsp. dried oregano
1 tbsp. lemon pepper
1 tbsp. dried parsley
3-4 large zucchini
¼ cup chopped sundried tomatoes
1 tbsp. olive oil
1 tsp. salt
½ tsp. pepper
½ cup feta cheese
Pinch of red pepper flakes
1 tsp. oregano
¼ cup red wine vinegar
¼ cup dijon mustard
1 tbsp. honey
Zest of ½ lemon
1 tsp. salt
1 tsp. pepper
1 tsp. garlic powder
Serving Size
1/2 Zucchini with Filling (170g) / Dressing 1 Tbsp (19g)
Amount Per Serving
Calories
270 / 20
Calories from Fat
% Daily Value*
Total Fat

10g

13%
Saturated Fat

3g

16%
Trans Fat

0g

Cholesterol

45mg

15%
Sodium

1420 / 460mg

62 / 20%
Total Carbohydrates

6 / 3g

2 / 1%
Dietary Fiber

1 / 0g

5 / 1%
Sugars

3 / 2g

Protein

14 g

Calcium (90mg / 10mg)

6 / 0%

Iron (1.4mg / 0.2mg)

8 / 0%

Potassium (460mg / 20mg)

10 / 0%

*Percent Daily Values are based on a 2,000 calorie diet. Your daily values may be higher or lower depending on your calorie needs. This is a representation of the nutrition label. The actual nutrition label on the product may vary slightly.
Step 1

First halve each zucchini and using a spoon, scoop out the inside of the zucchini. Creating a "boat" to stuff with our ground turkey!

Step 2

Arrange them on a baking sheet and drizzle with 2 tbsp olive oil and sprinkle with salt and pepper. Bake at 350 for about 10 minutes until they start to become tender.

Step 3

While those bake, in a large skillet over medium high heat, heat 1 tbsp of olive oil.

Step 4

Brown the turkey until nearly cooked through. Stirring occasionally.

Step 5

Stir in the grated onion, garlic, salt, and lemon pepper, and oregano.

Step 6

Once the zucchini boats have baked, stuff them each with equal amounts of the turkey filling. Top each boat with a couple tablespoons of feta cheese as well as 1 tablespoon each of chopped sundried tomatoes.

Step 7

Return them to the oven for an additional 5-10 minutes.

Step 8

During this 2nd baking time, in a small bowl or blender cup, combine all ingredients for the dressing.

Step 9

Whisk or blend until well combined.

Step 10

Remove the turkey boats from the oven and serve with the dressing. Enjoy!

Step 11

Save any turkey that didn't make it into the boats for dinner later in the week!
Hungry for More?
Sign up to get exclusive offers, recipes, and seasonal inspiration straight to your inbox.
Join Now