Roast Turkey & Apple Cider Brine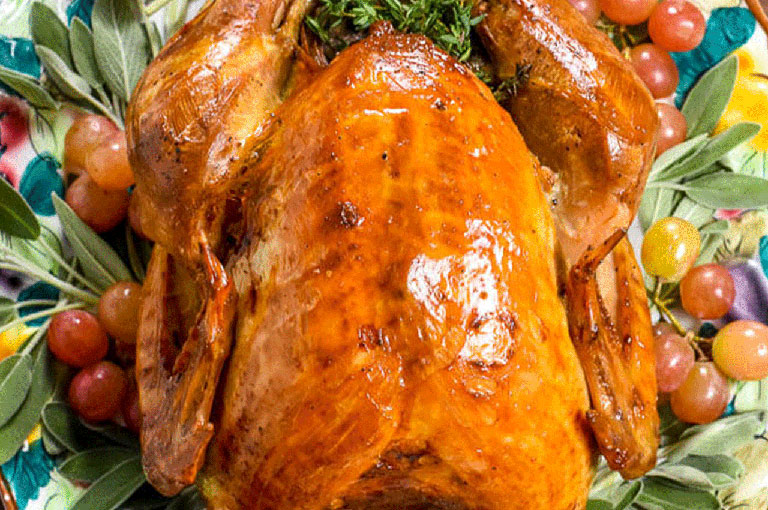 6

Servings

24 hrs

Prep Time

27 hrs

Total Time
Ingredients
Roast Turkey
1/2 cup (8 tablespoons) unsalted butter, softened
Freshly cracked black pepper
Kosher salt
Garlic powder
2 cups chicken broth
Apple Cider Brine
3 cups Apple Cider
Juice from 4 oranges
2 gallons cold water
4 tablespoons fresh rosemary leaves
1 tablespoon crushed sage
2 tablespoons minced onions
5 cloves garlic, minced
1/2 cup Kosher salt
2 cups brown sugar
2 tablespoons freshly cracked black pepper
Serving Size
3 ounces cooked turkey
Amount Per Serving
Calories
140
Calories from Fat
% Daily Value*
Total Fat

12g

15%
Saturated Fat

6g

30%
Trans Fat
Cholesterol

60mg

20%
Sodium

380mg

17%
Total Carbohydrates

0g

Dietary Fiber
Sugars
Protein

12g

*Percent Daily Values are based on a 2,000 calorie diet. Your daily values may be higher or lower depending on your calorie needs. This is a representation of the nutrition label. The actual nutrition label on the product may vary slightly.
Step 1

Apple Cider Brine: In a large stock pot over medium-high heat, add the ingredients listed under the Apple Cider Brine heading. Bring the brine to a boil. Then remove the brine from the hot stove and let it cool to room temperature.

Step 2

Place the thawed, unwrapped turkey in a brining bag or in a large container, and pour the cooled Apple Cider Brine over the turkey.

Step 3

Seal the bag and refrigerate it for 12 to 24 hours. The larger the turkey, the longer it should remain in the brine.

Step 4

After the allotted time, remove the turkey from the brine and rinse inside and out.

Step 5

Roast Turkey: Preheat the oven to 325°F.

Step 6

Rub the turkey with softened butter on the outside of the skin all over and under the skin as well.

Step 7

Sprinkle the buttered turkey all over with salt, pepper, and garlic powder.

Step 8

Wrap the wing tips and the ends of the turkey legs with foil to prevent them from overcooking.

Step 9

Place turkey on a rack inside a roasting pan.

Step 10

Pour chicken broth into the bottom of the roasting pan.

Step 11

Place a foil tent over the turkey and leave it on for the first hour of cooking.

Step 12

Place the turkey in a preheated oven. Cook the turkey for about 15 minutes per pound. For a 12-pound turkey, cook for about 3 hours or until a meat thermometer reads 170°F.

Step 13

Remove the turkey from the oven and let it rest for about 30 minutes.
Hungry for More?
Sign up to get exclusive offers, recipes, and seasonal inspiration straight to your inbox.
Join Now