Sweet & Spicy Turkey Tacos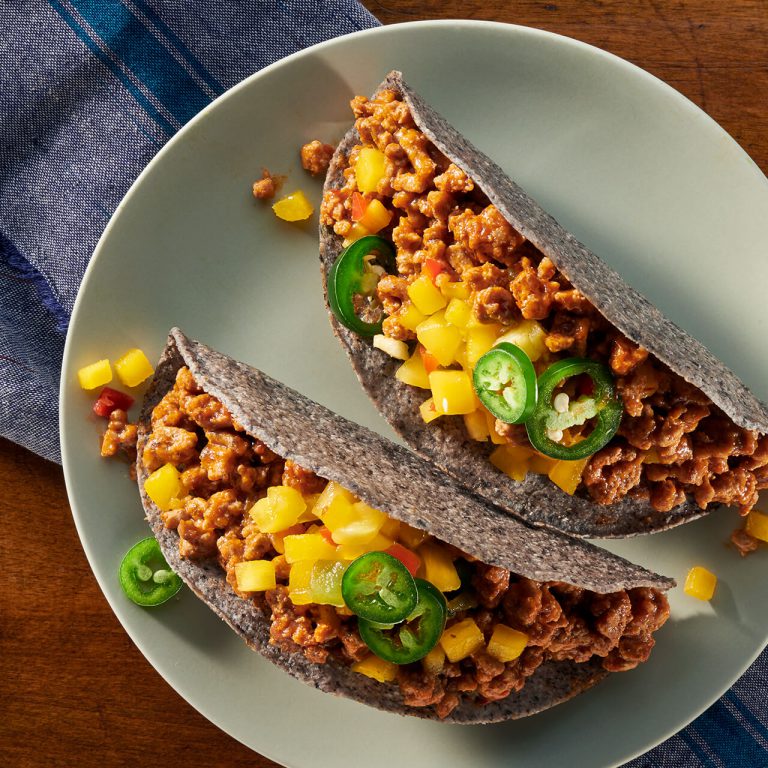 6-Apr

Servings

15 mins

Prep Time

20 mins

Total Time
Serving Size
1 Taco
Amount Per Serving
Calories
324
Calories from Fat
% Daily Value*
Total Fat

14g

Saturated Fat

4g

20%
Trans Fat
Cholesterol

70mg

23.3%
Sodium

820mg

34%
Total Carbohydrates

28g

9.3%
Dietary Fiber

2g

8%
Sugars

3g

Protein

22g

44%

*Percent Daily Values are based on a 2,000 calorie diet. Your daily values may be higher or lower depending on your calorie needs. This is a representation of the nutrition label. The actual nutrition label on the product may vary slightly.
Step 1

Preheat and 8- to 10-inch nonstick skillet on medium heat for 2-3 minutes.

Step 2

Add 2 teaspoons extra virgin olive oil.

Step 3

Add turkey and cook until browned and crumbly. Ensure that turkey reaches an internal temperature of 165°F using a meat thermometer.

Step 4

Reduce heat to low.

Step 5

Add spice packet and water; cook 3 minutes.

Step 6

Warm tortillas.

Step 7

Pile on the taco meat, mango salsa, cilantro and hot sauce, and enjoy!
Hungry for More?
Sign up to get exclusive coupons, recipes, and seasonal inspiration straight to your inbox.
Join Now