Turkey Piccata with Buttery Green Peas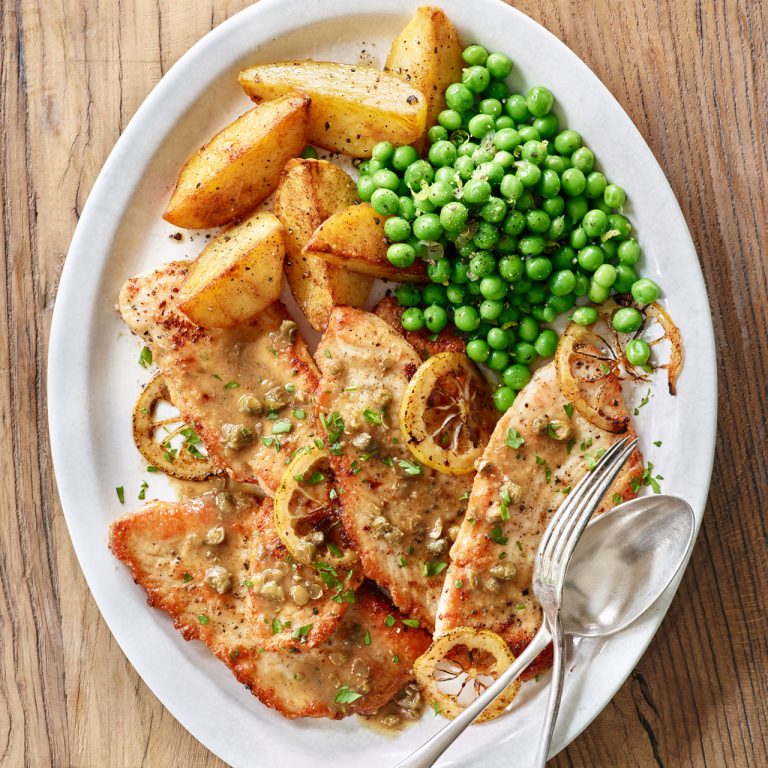 4

Servings

15 mins or less

Prep Time

30 mins or less

Total Time
Ingredients
1 tbsp. unsalted butter
2 tbsp. minced white or yellow onion
2 cups fresh or frozen sweet or baby green peas
2 tbsp. water
1/4 tsp. salt
1/4 tsp. freshly grated lemon zest
Salt
Freshly ground black pepper
1/3 cup all-purpose flour
1 tbsp. olive oil (less if using a nonstick pan)
2 tbsp. unsalted butter, divided
1/3 cup dry white wine
1 tbsp. minced fresh parsley
1/2 fresh lemon, cut into slices
Freshly ground black pepper
Roasted potatoes (optional side dish)
Serving Size
About 3 oz. cooked turkey, 1 TB sauce and 1/2 cup peas
Amount Per Serving
Calories
330
Calories from fat
120
% Daily Value*
Total fat

13 g

20 %
Saturated fat

6 g

30 %
Trans fat

0 g

Cholesterol

85 mg

28 %
Sodium

390 mg

16 %
Total Carbohydrates

21 g

7 %
Dietary Fiber

4 g

16 %
Sugars

4 g

Protein

30 g

*Percent Daily Values are based on a 2,000 calorie diet. Your daily values may be higher or lower depending on your calorie needs. This is a representation of the nutrition label. The actual nutrition label on the product may vary slightly.
Step 1

Melt butter in a large skillet over medium-high heat. Add onion and cook, stirring, until soft but not brown, about 3 minutes.

Step 2

Add peas, water and salt, and bring to a simmer. Reduce heat to medium-low, cover skillet and simmer just until tender, about 3 minutes. Stir in the lemon zest and set aside.

Step 3

Sprinkle the flour on a large plate and season with salt and pepper.

Step 4

Dredge turkey in flour. Shake off the excess flour. Set aside.

Step 5

In a large skillet over medium heat, heat olive oil and a teaspoon of butter. Once hot, add the turkey and cook, browning on each side, about 2 minutes total. Remove to a clean plate.

Step 6

Cook turkey in batches, adding more butter as necessary.

Step 7

Once all turkey is cooked, lower the heat and add wine and lemon slices to the skillet. Deglaze the pan and simmer until slightly reduced, about 2 minutes. Add any remaining butter and the turkey, coating each piece with the pan sauce.

Step 8

Place turkey on a clean platter, sprinkle with parsley, season to taste with pepper, and serve with peas and roast potatoes. Garnish with capers if desired.
Hungry for More?
Sign up to get exclusive offers, recipes, and seasonal inspiration straight to your inbox.
Join Now