Honey Mustard & Pecan Crusted Turkey Tenderloin
A tangy, crispy, and juicy combination of honey mustard, pecans, and tender Honeysuckle White Turkey Breast Tenderloins are baked to perfection in this easy, weeknight dinner. It's lean, flavorful, and the Original Turkey Breast Tenderloins make this meal so simple to prep.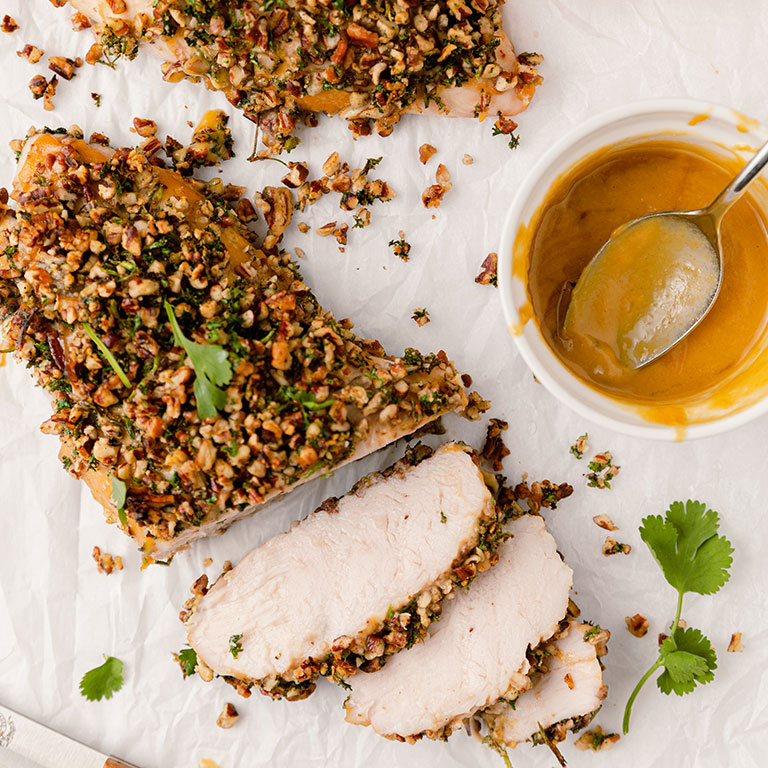 6

Servings

5 mins

Prep Time

35 mins

Total Time
Ingredients
¼ cup dijon mustard
¼ cup honey
½ tsp. salt
½ tsp. pepper
1 tbsp. garlic powder
1 cup pecans
¼ cup parsley, chopped
Step 1

Preheat the oven to 350°F.

Step 2

Remove the tenderloins from packaging and place on a lined sheet pan.

Step 3

In a small bowl combine honey, mustard, salt, and pepper. Whisk well.

Step 4

Pour this mixture over the turkey.

Step 5

In a food processor combine pecans, garlic powder, and parsley. Pulse a few times to finely chop all ingredients.

Step 6

Sprinkle this mixture over the tenderloins and place in the oven.

Step 7

Bake for 30 minutes or until the internal temperature has reached 165°F. Tip: If the pecans start to look too brown or burned, tent the sheet pan with aluminum foil for the duration of the cook time.
Hungry for More?
Sign up to get exclusive coupons, recipes, and seasonal inspiration straight to your inbox.
Join Now