Smoked Basted Turkey Breast 'Trisket' with Cranberry Onion Relish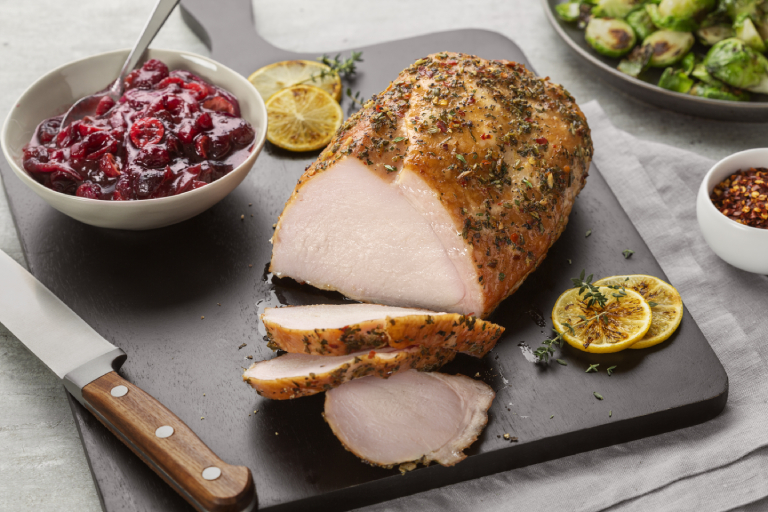 8

Servings

10 mins

Prep Time

4 hrs

Total Time
Ingredients
½ cup olive oil
1/3 cup fresh squeezed lemon juice
1 Tbsp. lemon zest
2 Tbsp. fresh rosemary, rough chopped
4 garlic cloves, fine mince
2 tsp. Kosher salt
1 tsp. fresh ground black pepper
½ tsp. crushed red pepper
Step 1

The day prior, combine the olive oil, herbs and spices together. Coat the entire turkey breast with a quarter of the mixture. Place turkey covered in the refrigerator overnight.

Step 2

Preheat the smoker to 250°F. Place the Basted Turkey Breast on the smoker skin side up.

Step 3

Approximately every 30 minutes, baste the turkey breast with the olive oil/herb seasoning blend.

Step 4

Continue to baste every 30 minutes until the turkey breast reaches a minimum internal temperature of 165°F (approximately 3 ½ hours), making sure to insert the thermometer in the thickest portion of the breast.

Step 5

Allow the turkey to rest for 10 minutes prior to carving. Slice and place on a platter. Serve immediately with Cranberry Onion Relish.
Hungry for More?
Sign up to get exclusive offers, recipes, and seasonal inspiration straight to your inbox.
Join Now